Dr. Wallas Khella
Ph.D., P. Eng., SLMIEEE, FEIC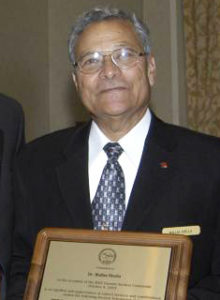 It's no exaggeration to say that as a mentor and educator, Dr. Wallas Khella has made a profound contribution to the safe and effective operation of power distribution companies across Canada. Thousands of students have taken his training courses and, through E-Worx, those courses can continue to guide new professionals in the industry for many years to come.
A graduate of both Cairo University (Egypt) and Dresden University (Germany), where he received his Ph.D. in 1962, Dr. Khella came to Canada in 1968 and joined what would eventually be Etobicoke Hydro. His primary responsibility was in the area of Power Distribution System Planning and Design.
Soon after arriving in Canada, Dr. Khella became a member of the IEEE-Toronto Section. It was as the IEEE Coordinator of Educational Activities that, in 1973, he first began delivering a course in power distribution equipment as part of its educational program. This course proved to be very popular, and over time, he developed other specialized training courses in response to repeated requests from participants. These courses provided the foundation for the E-Worx Training curriculum.
In 1994, Dr. Khella retired from Etobicoke Hydro to establish his consulting practice, W. H. KHELLA Enterprises. In addition to providing engineering services to his clients, he expanded the range of electrical power distribution training he offered.
For many decades, Dr. Khella has also been a member of the Canadian Standards Association (CSA Group), serving on Standards Writing Committees for a range of topics. In 2009, he was presented with a plaque acknowledging over 25 years of service and his "Significant Contributions towards CSA Standards Development."
Additionally, Dr. Khella has been recognized with many awards, including The Silver Merit Award and the IEEE Third Millennium Medal, for his remarkable contributions to the IEEA and to the engineering profession.
Silver Merit Award –IEEE

Fellowship Award – Engineering Institute of Canada

Third Millenium Medal – IEEE